Conclude Search
Recordkeeping obligations extends beyond the Search Report. Recruit maintains documentation on the status of the offer, recruitment clean up, and search conclusion.
While the appointment process may not be administered on Recruit, the information pertaining to the candidate's progression to employment at the university must still be documented throughout the process. This is done by updating the applicant status.
The applicant statuses after proposed are:
Offered - Approvals have been obtained and a formal offer has been made to the applicant.
Accepted offer - When the formal offer has been accepted by the applicant.
Declined offer - When the formal offer has been declined by the applicant.
Hired - Applicant is entered in payroll system in searched titles – their 12-digit path number needs to be entered along with their official start date.
Withdrawn - Applicant was not provided with a formal offer and has withdrawn themselves from consideration.
Below is an example of a hire entered into Recruit.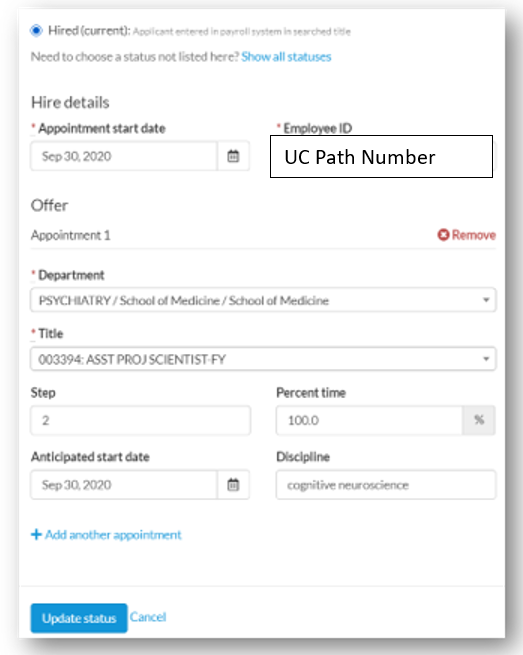 Once all the hires have been updated into Recruit, the recruitment is ready to be concluded. However, the applicant pool needs to be cleaned up. All applicants will need to be updated to a final determination status. All indications of still under consideration, alternate for the position, etc. will need to be removed.

Searches can be concluded when:
The department decides to cancel the search for any reason.
The search resulted in no interviews or no applicants were selected for hire.
All the hires for the search have been completed and the hire information has been entered.
To conclude, fill out the search outcome and select conclude recruitment.
Once the search is concluded, the recruitment record is closed and completed.